Who Are We?
Every church has its own unique "feel." Guests have told us that
they felt
welcomed and accepted.
We hope you will share those same feelings.
Our worship style is mostly contemporary.
We are committed to
Biblical preaching and teaching in all our ministries, and earnestly
desire to see the Good News of Jesus spread both at home and abroad.
We love our children and youth and have dedicated space, mentors
and finances to provide for their growth and development.
Where Are We Headed?
Our desire is:
To be a prayerful community of believers who will
Worship

the Lord in Spirit and in truth,
Serve

the Lord with gladness,
Grow

in our relationship with God and with others,
Reach

a new generation with the love of Jesus.
The Things We Value Most
The authority of the Bible – We will, therefore, teach and preach God's Word throughout the life of

First Baptist Church.

The need to be Christlike – We will, therefore, commit ourselves to grow spiritually.
The priority of Prayer – We will, therefore, incorporate genuine times of prayer into every ministry.
The reality of God's Provision – We will, therefore, give generously to support His work.
The importance of Relationships – We will, therefore, seek to develop and strengthen the friendships God has brought into our lives.
The blessing of Children – We will, therefore, love, protect and help them to grow in the

knowledge of

Jesus.

The desire for Unity – We will, therefore, work to resolve conflict in a gracious and loving way.
A heart for Missions – We will, therefore, share the love of God at home and abroad.
First Baptist Church is affiliated with Converge Worldwide and Converge North Central.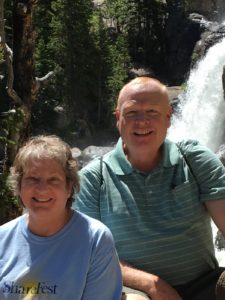 Larry Chell
Pastor Larry Chell is currently serving as the interim pastor at First Baptist Church in Roseau, MN. Larry has pastored 3 churches over the past 35 years since he graduated from Denver Seminary in 1982. He "officially " retired from full time ministry in 2015 but recently joined the team at Interim Pastor Ministry, whose goal is to help churches grow through pastoral transitions. He and his wife, Joyce, moved from their home in Montrose, Colorado in February, 2019 to be a part of this wonderful fellowship as they work to call a new Senior Pastor in the spring of 2020.

Larry and Joyce have 3 adult children, a son-in-law and 3 grandchildren and are currently engaged in the greatest pursuit life has to offer: growing in the grace and knowledge of Jesus.